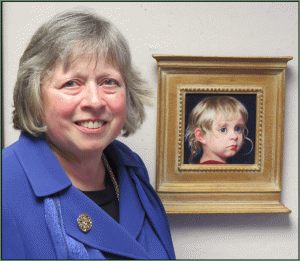 Only a few individuals will ever be the subject of a fine painting. When you choose a portrait artist, you need to know that the portrait not only portrays a likeness and the essence of the individual, but also will create a unique legacy, transforming a moment in time into a work of art that will last for generations.
Linda Stewart Champanier accepts a limited number of portrait commissions and may have a waiting list. To inquire about availability and request more information on the portrait process, please complete the contact form.
The Portrait Process
Before beginning the painting, the artist will meet with the subject(s) one or more times. Based on the information from the meeting, she will provide guidance on setting, clothing, accessories and pose.
One or more live sittings and a photo session with several poses and settings will be required to provide the artist with reference material. These can be done at the artist's studio in Olivebridge, New York, or the artist can travel to your location.
During the initial sitting, the artist will paint a color sketch, and take photographic reference shots in several different poses. The sitting and photo session will take about one to three hours.
Size, style, background, clothing, and pose are all considerations. Linda's portfolio will be available for your review, and styles and poses from classic paintings can be considered to choose the perfect look for your portrait.
Linda will create a preliminary sketch for your approval. Painting the portrait may take six to twelve months. During the final session, you can approve the portrait or request any final adjustments. The artist will deliver the painting upon completion.
Portrait Fees
A one-third deposit is due at the time of commissioning; the second third is due when the preliminary sketch is complete; and the final third is due when the portrait is complete. Prices do not include frames. Additional subjects in the same painting are priced at 50% of the first figure. Portrait fees vary according to size, background and complexity.
Guidelines for starting prices for portraits
Oil and Pastel Portraits
Miniature (up to 8″ x 10″) $750
Head and Shoulders (to 24" x 30" ) $2,800
Three-Quarters with hands (to 30" x 40") $4,800
Large Three-Quarters or Full (to 40" x 72") $9,200
Graphite Portraits
Starting price $350